Expansion and Establishment
During the Age of Expansion the rate of colonisation increased sharply, thanks to the development of greatly improved conversion drive vessels and reactionless drives. This period also saw a rapid increase in the power and influence of the Sephirotic Empires, as both long-established worlds and new colonies joined their ranks. In the Inner Sphere wormholes were constructed between several worlds, consolidating the power of the archai even more.

Only a representative fraction of the worlds and systems colonised in this era can be shown; by the end of this period, several hundred new colonies were being established each year.

2400-2499 AT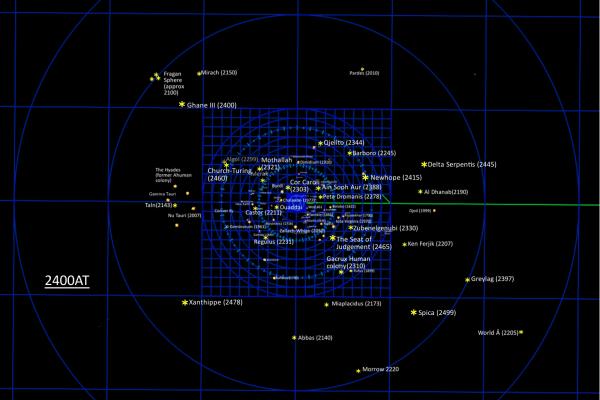 2400AT Ghane III (HIP 11923) -121.29, 103.61, -28.25 :: 2415AT NewHope (HIP 76282) 71.88, 29.20 91.54 :: 2445AT Delta Serpentis 135, 43.3, 155 (210 ly) :: 2460AT Church-Turing (TYC 1772-592-1) (102 ly) -78.27,40.85,-51.08 :: 2465AT Seat of Judgement (1 Centauri) 40.2, -38.2, 29.6 :: 2478AT Kate and Xanthippe (HD 62549) -108.65 -103.39 24.72 (152 ly) :: 2499AT Spica 122, -114, 202 (262LY)



2500-2599 at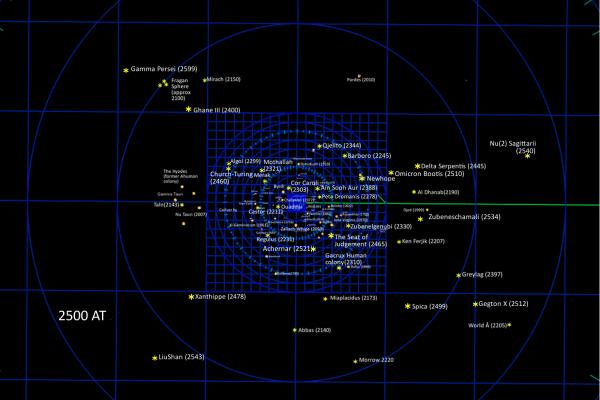 2510AT Omicron Boötis 103, 33.3, 197 (225ly):: 2512AT Gegton X (231LY) (HD 146059} 200.92, -113.63,-8.92 :: 2521 Achernar (139LY) 20.36,-61.79,-122.83 :: 2534 Zubeneshamali (185LY) 141.91,-19.89, 117.01 :: 2540 Nu(2) Sagittarii 258, 60.8, -53.8 (270LY) :: 2543 Liushan (225LY) (HD 65938) :: 2599 Gamma Persei (243LY) -191.11,148.95,-18.38



2600-2699 AT
2603AT Deucalion, (HD 2071) 27.00,-30.51, -78.93 :: 2608AT Delta Upali (239.65 ly) (HIP 60206) -21.56,-19.70, 237.86 :: 2640AT Eganfondugbe -140, 215, -60 :: 2642AT Ararat, HD 66740, -81.89,-175.48, 7.79 :: 2681AT Rengood (HD 193275) 145.91, 103.50, -77.60 ::2690AT 72 Aurigae) (217.34 ly) -216.70,14.16,2690)-8.76 :: 2698AT Alpha Cassiopei (Shedir) (228 ly) -118.2, 193.6,-25.05
>